"Sometimes the unplanned moment make the best stories"
Let me start from first, How we traveled Delhi unplanned in less cost ?
One day, my friend came to me and say, "there is offer on flight ticket and we need to buy for any place". We booked for Delhi return ticket just in 2600 INR from Ahmedabad. Great deal. Actually, unplanned journey started from this day.
Before Travel, we searched "places to visit in Delhi", "Delhi travel help", "Delhi Metro roots" and "Delhi tourism places". But nothing was confirm.
And the day come to fly, we have flight in morning at 6 AM. We called taxi to reach airport. Me and my friend downloaded some apps and got 4 free rides in taxi. So we reached to airport for free.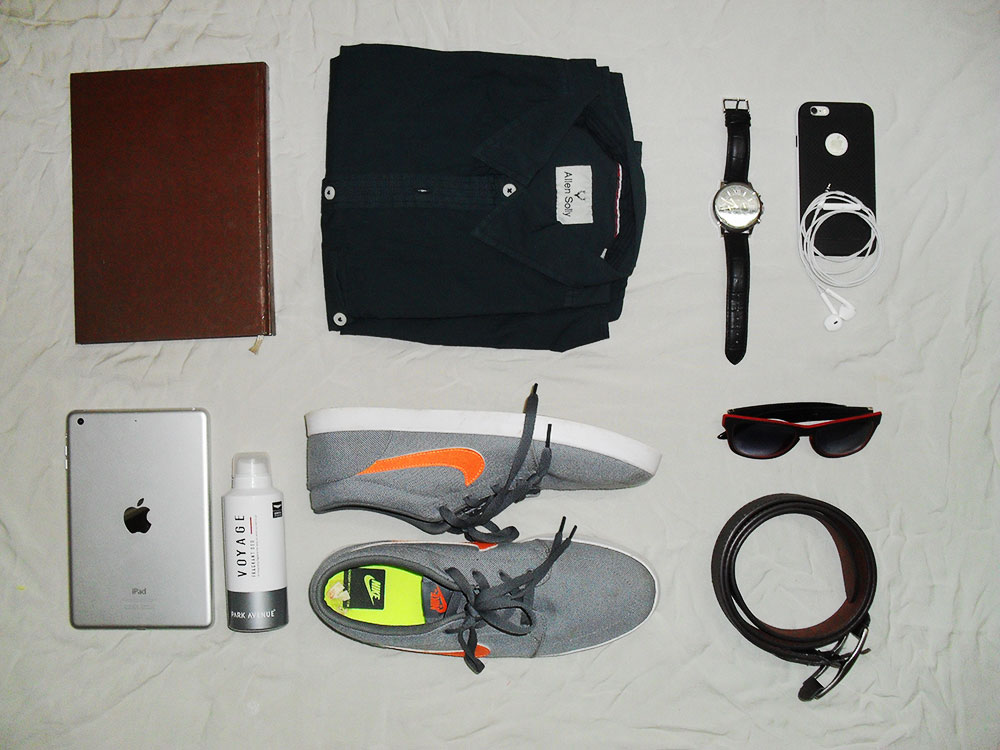 Stuff I took with me. No, am not rich 😉
We flew to Delhi and reached Delhi in 2 hours at 8 AM. Ok now? What to do ? Where to go ?
We were sheeted at chair at airport and surfing Delhi airport's free internet to find hotel. My friend got good deal for 5 star hotel. We booked in 6000 INR for 2 days which was 50% off.
Called taxi and reached hotel for free. Hotel was awesome place. We don't want to go out of hotel for first day.

Garden view from Window at hotel
First Day: Delhi Tourism
So First day, we just take rest at hotel, move around local area and surf places to visit in Delhi. We downloaded Delhi travel guide pdf and list out Delhi travel places to visit in next 4 days.
Here is our list of Delhi travel Places
Cyber City, Gurgaon, Haryana
Akshardham
Capital (India Gate, Rashtrapati Bhavan, Parliament)
We also tried to find some restaurant because 5 start food was costlier. In Delhi, you do not find restaurant easily. People love to eat street food. Street food at Delhi is also very testy. You can easily find street food there.
Second Day: Delhi Tourism
Traveled to Cyber city via Delhi metro. Metro is best way travel in Delhi. I love Delhi more than Mumbai because Metro and cleanness
At Gurgaon cyber city, we have seen biggest mall. City is part of Haryana and surrounded with metro track. Awesome place with tall building and color ful metro vagons.
Third day @ Delhi
Took our luggage and went to find cheap hotel at Paharganj area via Delhi metro. Here, we found many hotels in reasonable rate. So we booked one for 2000 INR for 2 days. Nice place and there were also bunch of foreign tourist stayed.
After, traveled to Akshardham. Big, beautiful and awesome temple till now I watched. Must visit place in your Delhi travel places list.
Enjoyed the different shows at Akshardham. They were good. Place give us spiritual feeling and peace in mind.
"I feel I am in a different world. It has become a place of education, experience and enlightenment. It creatively blends the tradition of stone art and architecture, Indian culture and civilization, ancient values and wisdom and the best of modern media and technology. " – APJ KALAM
Forth day @ Delhi
Visited different places of Capital.
India Gate
Rastrapati Bhavan
Paralament
Red Fort
Chandni Chawk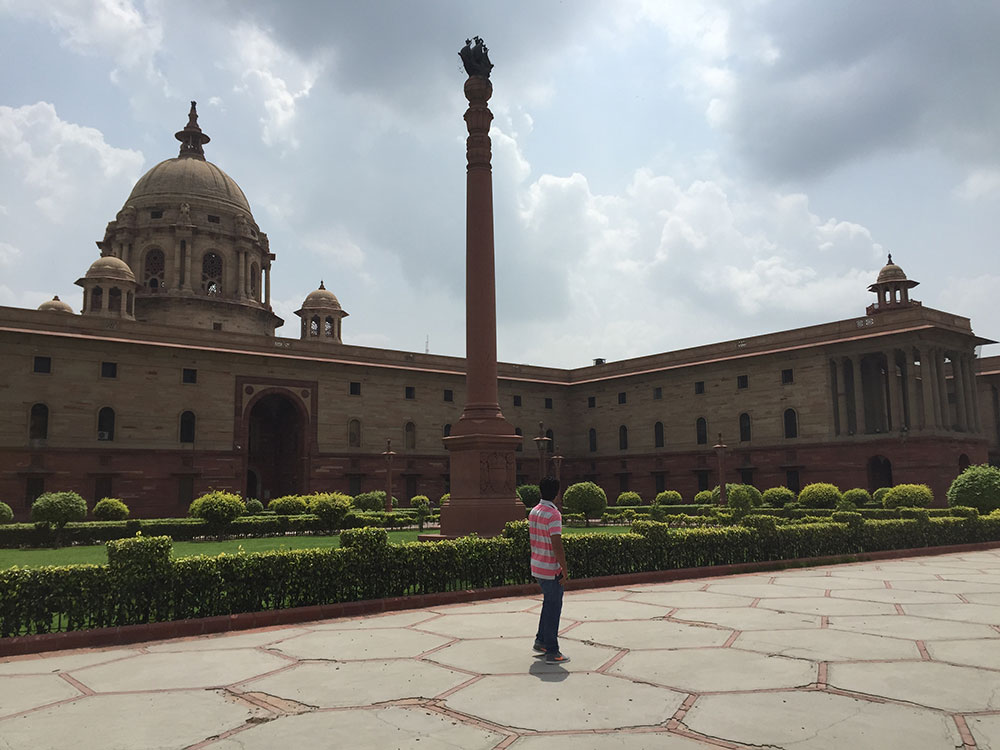 Pic near Rastrapati Bhavan
These are also must visit places. If you like heritage than you have to visit red fort and Rastrapati Bhavan from inside. You need to take permission online to visit Rastrapati Bhavan.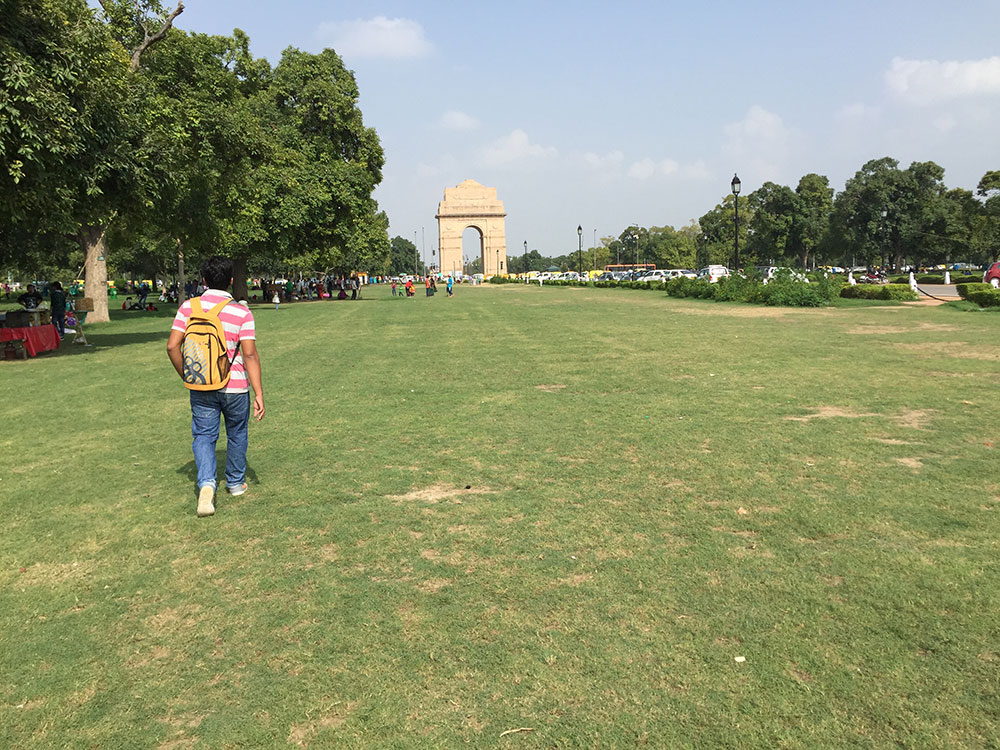 On the way from Rastrapati Bhavan to India Gate
Enjoyed Lassi and Cholle at Chandni Chawk's street. Did some shopping from there. Delhi's street shopping is cheapest place in India. So you can buy many stuff from there.


Red Fort
If you have time than you can also visit there places in Delhi
Last Day, Delhi Tourism
In Morning, we started again some shopping till afternoon. Than we had flight in evening. We called free taxi and reached airport.
At 8 PM reached back to Ahmedabad. Called again free taxi and reached our sweet home.
This was amazing unplanned journey of mine with my friend. You also have to plan something like that unplanned. It's memory for life time to do something unplanned. We both laugh sometimes to memorize this trip.
Check out our GOA TRIP as well.
Check out my Mauritius Holiday
If you have anything to ask me comment here, will happy to reply.